Lessons Learned from Serving on the NRMP Board of Directors
As part of the NRMP Illuminator newsletter, the NRMP recently interviewed Board Member and future Emergency Medicine Resident Sydney Miller, DO, and Board Member and Epilepsy and Clinical Neurophysiology Fellow Christopher Traner, MD, about the valuable lessons they have learned from serving on the Board of Directors and what has surprised them most about the NRMP.
---
NRMP: Thank you very much, Dr. Sydney Miller and Dr. Christopher Traner, for taking the time to share your experience on the NRMP Board of Directors. Can you tell us a bit about yourself and your background? Were you always interested in serving in a leadership capacity in GME?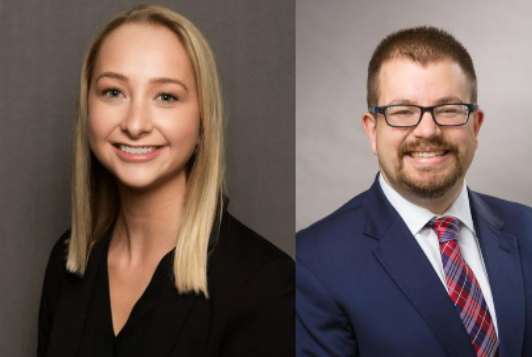 Dr. Miller: I'm a recent graduate of Michigan State University College of Osteopathic Medicine. I am a Michigan native and attended Michigan State University for undergrad in addition to medical school – Go Green! I'm starting an Emergency Medicine residency at Beaumont Royal Oak starting July 1. When I have free time, I like to hang out with family and friends, travel, hike, cook, and enjoy the many lakes of Michigan. I've always enjoyed education and teaching, but I did not appreciate the national opportunities for both subjects until medical school. I'm a big advocate for taking life as it comes and challenging yourself in new spaces to learn new skills in life. That being said, I didn't always know I wanted to serve the GME community in a leadership role, but once I saw the opportunity to advocate for medical students at a national level and learn more about the residency match process, I knew I wanted to be a part of the NRMP Board. I am incredibly grateful for the opportunity I've had and all I've learned the past two years.
Dr. Traner: I am finishing my clinical neurophysiology and epilepsy fellowship at the Yale School of Medicine after completing my Neurology residency also at the Yale School of Medicine in New Haven, CT. After this training, I am starting a position as an Assistant Professor of Neurology at Yale and as the Associate Fellowship Director for Clinical Neurophysiology and Epilepsy. I am originally from Cleveland, Ohio (OH! – will anyone give me an IO?) and attended medical school at the University of Toledo College of Medicine. I live in Cheshire, CT with my wife, almost 10 month old daughter Eloise, and cats Jax and Mylo. I love reading, playing peek-a-boo with my daughter, visiting the Connecticut wineries with my wife, and cooking!

Ever since I was little – I have always been interested in education. I used to give my grandparents "tests" that I would grade that included math problems and the bonus question was always the correct spelling of Snuffleupagus. As I got involved in groups in medical school, I found there was a niche for those passionate about education in GME leadership but also in educational scholarship so I have tried to foster that interest from my early days in education and now I am halfway through finishing my Masters in Medical Education!
---
NRMP: Why did you want to serve on the NRMP Board of Directors?
Dr. Traner: The Main Residency Match was a fascinating, stressful, and absolutely amazing period in my medical education timeline. The emotions experienced during that process are so unique and I am always the type of person that wants to guide others using my own experiences. Additionally, I saw a lot of things during the process that I thought could be improved for the betterment of others. So naturally, when an opportunity presented itself to become more involved in an entity within the UME-GME transition, I jumped at the chance. I applied twice since I was not chosen the first time because I felt so strongly about being an advocate for the learners on the NRMP Board.
I also live by the creed "every opportunity in life is one to learn from." I knew that serving on the NRMP Board would be educational for me not only to gain insight from others about the UME-GME transition process, but also something about how to best support learners through the process given my ultimate career goal was to be a residency program director!
Dr. Miller: I wanted to serve on the NRMP Board because I desired to bring my osteopathic perspective to the Match process and advocate for all medical students under the single accreditation system. When I was applying to the Board, the single accreditation system had just begun, so I was excited about the opportunity to share my osteopathic medical student experience. After serving my local medical school and university community as President of my medical school class, I hoped to try something new by serving on a national organization that reaches every medical student applying to residency programs in the U.S. I knew I had a lot to learn!

---
NRMP: What did you know about the NRMP before starting your term on the Board?
Dr. Miller: I knew that the NRMP was the organization that used the matching algorithm to match medical students to residency programs and was a key player in the transition from UME to GME. From my own research and friends going through the Match process, I knew that the NRMP was committed to protecting learner rights throughout the Match by pursuing Match violations. For this reason, I wanted to be a part of the system to help protect students when applying to residency programs. When I applied to the Board, I had not gone through the Match so did not have any personal experience besides what I'd heard from other students going through the process.
Dr. Traner: Mainly what I knew about the NRMP was what I experienced during my own Match process from 2015-2016. I knew that they collected the rank lists from the applicants and the programs and then put those lists in some sort of computer to figure out where the best possible "match" would be. I remember getting all of about 5-10 emails from them, the most exciting of which was the "You have matched" email on Monday of Match Week. I also knew that they took Match violations very seriously given that the integrity and trust in the process is only as good as the rules for both learners and programs are enforced.
---
NRMP: What has surprised you the most about the NRMP?
Dr. Traner: I knew going into my time on the Board of Directors that the NRMP stood for learners and that applicants are their primary concern. However, I had no idea how deep that commitment was until I was serving on the Board. EVERY and I mean EVERY decision is made in terms of thoroughly thinking about how this will or will not affect the applicants and students in the process. The programs, while important, are definitely a secondary concern. Additionally, we all know that there is a lot of consternation and advocacy about the UME-GME transition right now – but the NRMP has the singular focus on how they can make the process as fair, transparent, and easy to navigate for applicants. Every meeting we spend the majority of our time with this singular focus in mind. Being someone who loves to make the experiences of those who come after me better than my own, this unwavering commitment is an ideal that I think so many organizations in education (both inside and outside of medicine) need to refocus on.
Dr. Miller: The most pleasant surprise about the NRMP is that every decision made is learner focused. I knew the NRMP believed strongly in pursuing Match violations to make sure learners had power during the application process, but I did not fully understand how much the Board cared about students. When a new initiative is brought to the Board, we thoroughly examine it to make sure it will help and not hurt learners in the process. I have been extremely impressed by this and take solace that this GME organization is more interested in helping the learners than themselves. I knew the NRMP was important in the UME to GME transition, but I did not fully appreciate the scope of knowledge the NRMP Board members possess. Everyone on the Board has a unique and impressive background, which enables us to have meaningful discussions surrounding new GME policies and initiatives.
---
NRMP: What is the biggest misperception medical students or residents have about the NRMP and the Match?
Dr. Miller: A large misperception that I've heard is that the NRMP and the Match are the only players in the transition process. The NRMP does not have a current role in applications, interviews, or preference signaling, and I think many students get this confused. The NRMP is one of many organizations committed to improving the residency transition experience for medical students, but is not the only one. I've also noticed that students are frustrated with the expenses and stress of the application, interview, and Match process, and as a student who recently went through it all, I felt it too. The phrase, "the Match is broken" has been tossed around by students during my role as Student Director on the Board. While I agree that there are many components of the entire transition from UME to GME that could be improved, my time on the Board has shown me that the matching algorithm continues to perform effectively.
Dr. Traner: The biggest misperception stems from the fact that as an applicant, to you the whole process (applications, letters of recommendation, personal statements, interviews, rank lists, and the Match) are all one entity. However, the thing I don't think that students truly appreciate is that the NRMP has no control over the process until the rank order lists begin. The facilitation of the Match with 100% integrity is always the goal of the NRMP and one that has succeeded for many years, including the two years that I have been involved on the Board. However, given all the controversy and advocacy about changing the UME-GME landscape – I think people lump the NRMP into issues regarding the application inflation or interview hoarding, while the NRMP may have an opinion or suggestion on these issues, these issues are outside of the NRMP. That being said, I can tell all students that the NRMP is firmly invested in being a part of the solution and conversation for this UME-GME transition with that one singular focus – how will this work for the betterment of the applicants – in mind.
---
NRMP: What is the most valuable lesson you have learned while serving on the Board and how will your time on the Board help you in your future endeavors?
Dr. Traner: As I mentioned before, my ultimate career goal is to be a Neurology residency program director. Therefore, at some point in my future career I hope to be heading the recruitment efforts which will obviously involve all part of the UME-GME transition and making my program's rank order lists. So going into the experience that is what I thought I would take away – a greater understanding of the process and how I could be the best program director I could be functioning within that system. However, the most valuable lesson I have learned has nothing to do with the application or matching process per se, but the importance of weighing all the options of a decision and how it may affect the learners involved. As I mentioned many times, the NRMP has a singular focus on making changes with the betterment of the applicants in mind. My personality is to make quick, efficient and the-path-of-least-resistance decisions. However, the reality is that in GME that is not usually at all the best course. It may seem like it at the time but the unintended consequences that you didn't stop to think about will rear their ugly head sooner rather than later. My time on the Board has taught me to be a more methodical and patient decision maker and considering what the ultimate purpose and goal of my decision is before making it. In my future I know that this will make me a better Associate Fellowship Director (the role I am about to assume) and a better future Residency Program Director as well because I will always have as my singular focus how my decisions should only be for the betterment of the trainees in my program. This is an invaluable lesson, but one that not only the NRMP organization has instilled in me, but also my conversations with my fellow Board members who all bring to the table a unique life and work experience that I will always reflect on during my own career as well.
Dr. Miller: One of the most valuable lessons I've learned from the Board is that it's okay to have differing opinions than those you serve with. There's been many times during meetings where Directors offer different viewpoints on a topic, and both sides are addressed in a respectful manner. From these opposing views, we can thoroughly examine new initiatives and how they might affect students, residents, and the entire GME community. The ability to critically analyze problems using a data-based approach is something I can apply to my career in emergency medicine and any future leadership opportunities that come my way. I've also learned so much about the general GME landscape, as this was my first position on a national Board.
Moving forward, I have an open mind when it comes to my future in Emergency Medicine, and my time on the Board has opened my eyes to new advocacy-oriented careers at the national GME level. I've always enjoyed teaching and getting involved in leadership opportunities, so I could see myself wanting to be faculty or leadership in a residency program one day. I think my position as a Student Director on the Board will be instrumental in my future career because it's given me an appreciation for the national GME landscape, the confidence to offer differing opinions in a room full of highly qualified individuals, and the ability to remain committed to a learner-focused mission despite ever-changing circumstances. I am extremely grateful for this opportunity and highly recommend it to any student who is interested in helping other medical students while learning more about medical education!
---
Press Contact