An Interview with Dr. Natasha Bray
As part of its NRMP Connects series, the NRMP interviewed Natasha Bray, DO, MSEd, Interim Dean of the Oklahoma State University College of Osteopathic Medicine at the Cherokee Nation, to learn more about her path to Medicine, her involvement in the ground-breaking partnership between OSU and the Cherokee Nation to support community and elevate URM in medicine, and the impact she believes the partnership is having on the student body. Dr. Bray is Board Certified in Internal Medicine and Addiction Medicine. She also is a member of the NRMP Board of Directors.
---
NRMP: Thank you very much, Dr. Bray, for taking the time to share your story. Can you tell us a bit about yourself and your background? Were you always interested in health equity? Rural/underserved areas?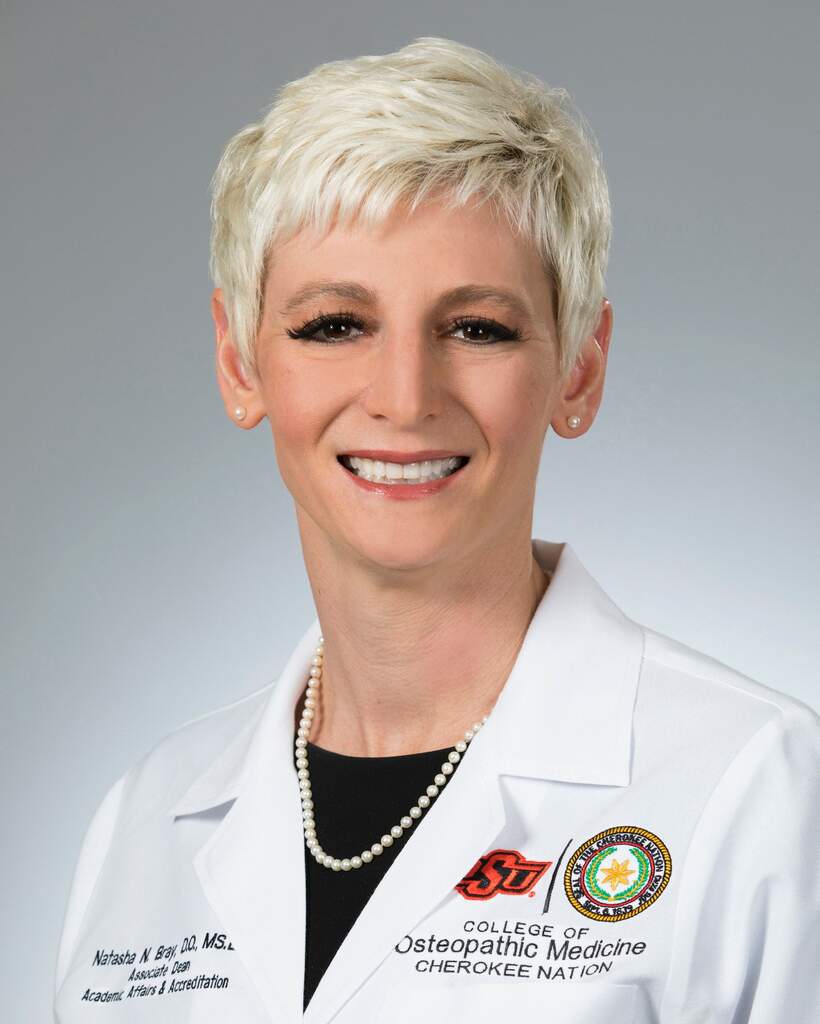 Dr. Bray: I grew up in Northwest Oklahoma. My father was a pharmacist and a family medicine physician in private practice who provided cradle to grave care for our rural community. I have been very fortunate to be raised in a medical household with an emphasis on community engagement and with a responsibility to serve.
I am not sure growing up I knew what health equity was or that we had such challenges associated with its attainment. I was taught the value of taking care of patients and knew they faced often insurmountable challenges in obtaining care, whether that was driven by access (availability or distance), time to get the care, or the ability to pay for that care. But we didn't talk about the concept of health equity as we see it today.
As I have progressed in my medical career, and more importantly in my career as an educator, creating systems that support access to care for patients have been central to my personal mission. The right care, for the right patient, at the right time should be our shared value. The opportunity to create educational opportunities for students living in rural and tribal communities so they can care for their communities is a privilege.
---
NRMP: What was the impetus for establishing the OSU-COM at the Cherokee Nation?
Dr. Bray: OSU has been a leader in rural health for decades – we truly walk the walk when it comes to caring for rural Oklahoma. We consistently have had the highest proportion of Native American students at any medical school in the country.
The historic partnership between OSU and the Cherokee Nation (CN) advances the sovereignty of the Cherokee Nation with the establishment of the nation's first tribally affiliated college of medicine on a tribal reservation. OSU and CN already shared a vision to ease the primary care shortage impacting rural, tribal, and underserved Oklahoma communities. Oklahoma and rural Oklahoma, where so many tribal citizens live, face some of the worst health challenges in the country. Oklahoma ranks 46th in the number of primary care doctors per capita.
The state needs 732 more doctors to reach the national rate of 92.5 practicing primary physicians per 100,000 residents. In addition to a physician shortage, Oklahoma has an aging physician population with 57 percent of physicians practicing in rural Oklahoma are older than age 55 and 27 percent are older than age 66. Oklahoma perpetually comes in last in almost any metric used for measuring health.
In a state with such poor health, our rural areas suffer even greater health disparities. Because this is where a high percentage of American Indians live, many tribes began to lead the way in solving rural health problems. Creating opportunities for Native Americans to train to become physicians is important in the work to address these health disparities and meet the needs of Indian Health Services and Tribal health care systems for physicians. American Indians/Alaskan Natives are under-represented in the medical field with only 0.3% of active U.S. medical residents being AI/AN, compared with 1.3 percent of the U.S. population.
---
NRMP: How does this new campus support the community in which it resides?
Dr. Bray: Community outreach is important to OSUCOM-CN. Annually, we host Operation Orange, a one-day medical camp for high-school-age students to come spend a day in the life of a medical student. This year, we are getting to open this opportunity up to middle school aged students.
In addition, OSUCOM-CN medical students participate in numerous community outreach activities. Students have administered vaccines at the COVID-19 Vaccine clinic at Cherokee Nation Outpatient Health Center. They have hosted many charity drives, a Teddy Bear and Toothbrush drive for Afghan refugees, a school supply drive for local elementary schools, and a food drive for the local CARE Food Pantry. Students continue to participate a few times a year with Habitat for Humanities to help clean yards, paint, and minor carpentry work. The students created Dr. Pete's Book Nook in the Cherokee Nation Outpatient Health Center Pediatrics Department, which is a free community library. Most recently they have participated in the Leadership Tahlequah Bowling Tournament Fundraiser to purchase barricades for the city of Tahlequah for additional safety measures during community events and parades.
---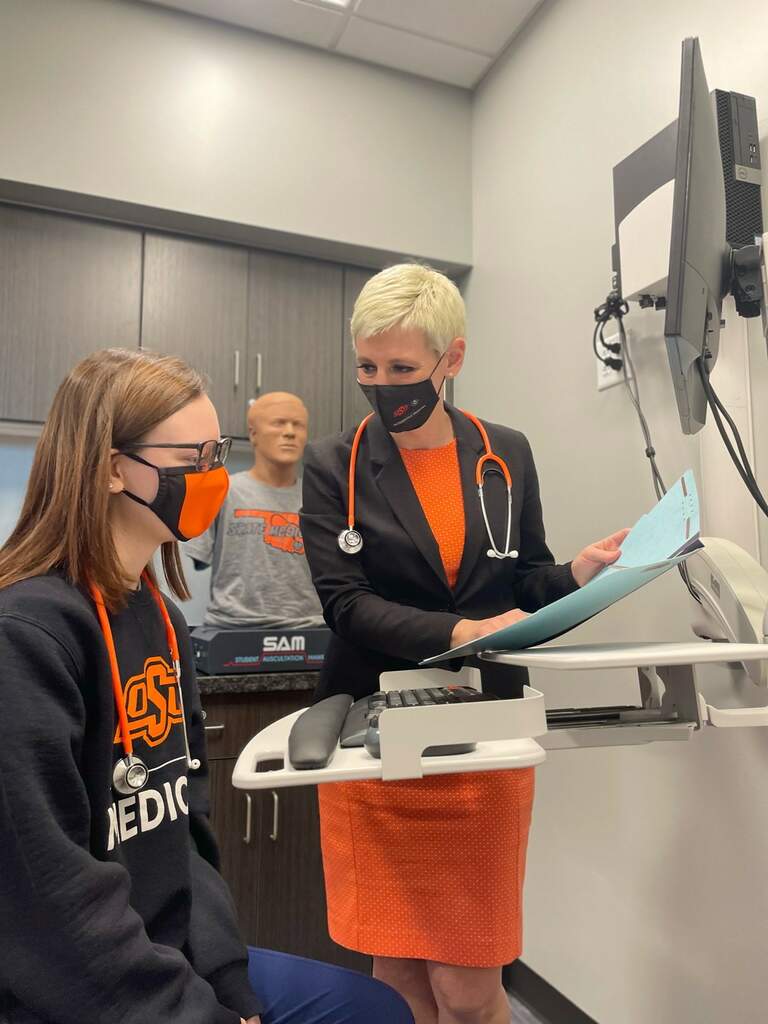 NRMP: Can you tell us a little about your students?
Dr. Bray: While OSUCOM at the Cherokee Nation is located on the Cherokee Nation Reservation, our academic accreditation and oversight comes from Oklahoma State University. Both the Tulsa and Cherokee Nation campus of OSU College of Osteopathic Medicine share the same admission criteria and process. Students apply to OSU and can designate their campus preference on their secondary application.
We are very proud of the demographics of our students on the Cherokee Nation Campus – The Cherokee Nation Campus matriculates ~ 50 students each year. We feel that diversity in the learning environment supports training physicians to meet the health care needs and challenges of our diverse patient populations. The inaugural Class of 2024 at the Cherokee Nation campus is 22.5 percent American Indian/Alaskan Native and 31.5 percent underrepresented minorities in medicine. 90.7 percent of students are from the State of Oklahoma, 38.8 percent are from rural communities, and 50 percent are female. The class of 2025 is 24.5% AI/AN and 32.1% underrepresented minorities in medicine. 90.6 percent of students are from the State of Oklahoma, 45.8 percent are from rural communities, and 56.6 percent are female.
---
NRMP: The partnership between OSU and the Cherokee Nation is likely unlike any in the country. Can you describe how that partnership works and what both organizations are learning from and about each other?
Dr. Bray: The OSU College of Osteopathic Medicine at the Cherokee Nation is the first tribally affiliated medical school in the country. The mission of the campus is to educate primary care physicians who have an interest in serving rural and Native American populations in Oklahoma. The opening of the campus and the partnership represents an almost decade-long journey to transform a shared vision into reality. We are here because the Cherokee Nation and Oklahoma State University endeavored to find a common solution to their individual challenges through a shared vision.
"Recruiting primary care physicians to practice within the Cherokee Nation's 14-county jurisdiction remains a constant struggle. We admire and support OSU Center for Health Sciences' efforts to populate rural Oklahoma with doctors from rural Oklahoma. That mission will create healthier families and communities in northeast Oklahoma and improve the lives of Cherokees for the next seven generations." ~ Former Chief Bill John Baker (at partnership announcement)
In 2006, OSUCOM medical students started completing clinical rotations at W.W. Hastings Hospital.
In 2009, OSUCOM in partnership with Northeastern Health System and Cherokee Nation established a family medicine residency program in Tahlequah, Oklahoma.
The partnership is an example of the tremendous good that can occur when trust is the foundation of a relationship. The investment represents the hope that future physicians who train at the OSU College of Osteopathic Medicine at the Cherokee Nation will value the unique investment made by the Cherokee Nation and OSU and carry that into their future careers. Cherokee Nation paid for the construction of the $40 Million dollar facility and continued maintenance while OSU handles staffing, the educational degree program, accreditation, and day-to-day operations of the College of Osteopathic Medicine.
---
NRMP: What is the overall goal and mission of the partnership between OSU-COM and Cherokee Nation?
Dr. Bray: Oklahoma has a physician shortage, and this is more pronounced in our rural and tribal communities. The partnership between the Cherokee Nation and OSU is about more than training doctors during their four years of medical school. We have a shared mission to be part of communities, to inspire school age children to pursue careers that benefit their communities. We want every child growing up in Oklahoma to feel that being a physician is an attainable goal. Our goal is to recruit students from the very communities that need physicians, give them the opportunity to pursue their education in a rural community at a school that is on tribal land, and complete their residency within a tribally operated health care center. Students can pursue their education while continuing their relationships with their family, their community, and their tribe.
---
NRMP: Why is it important to train students in an environment they are interested in practicing in?
Dr. Bray: We believe in the value of a distributive training model. Allowing students to learn and develop in the communities that they intend to serve allows them to learn not only traditional medicine, but to be immersed in the community with all the benefits and barriers those communities face in achieving health equity. We have several example programs that work toward that goal including our Tribal Medical Track and our Rural Medical Track
OSU-COM offers a Tribal Nations Medical Track (TMT) that stresses the unique nature and characteristics of practicing within a tribal healthcare system or Indian Health Services. The TMT at OSU-COM prepares medical students for a primary care residency affiliated with one of our tribal partners. The TMT offers unique learning opportunities for motivated students to fully develop their skills, knowledge, and abilities to succeed in a challenging practice environment.
A key facet of the TMT is clinical training and experience in a variety of tribal healthcare systems. OSU-COM has active clinical partnerships with the Cherokee Nation, Choctaw Nation, Chickasaw Nation, Indian Health Services, and other federally recognized tribes in Oklahoma. Students in the TMT will have unique experiences to build enhanced cultural competency for work with indigenous populations while completing the traditional first- and second-year medical school curriculum. Specific experiences include a two-week summer externship, training in quality improvement and patient safety, and completion of a research project. During the 3rd and 4th years of medical school, students in the TMT can complete most of their required clinical education in a tribally-affiliated health care systems. Students work side-by-side with physicians learning the skills and performing the tasks necessary for a successful practice. The TMT includes a mentored quality improvement research project suitable for presentation or publication.
---
NRMP: What is it like being part of the first tribally-affiliated college of medicine to ever open in the U.S.?
Dr. Bray: It is a true honor. We are setting the groundwork to establish a firm foundation for future growth physically and metaphorically. The partnership has made both Cherokee Nation and OSUCHS stronger as we tackle the state's physician shortage. I have also been proud to learn and expose students to accurate tribal culture for all tribes, not just Cherokee Nation. I think we have the opportunity to increase cultural awareness in a whole new way, that will be impactful to the healthcare tribal citizens receive in the future.
---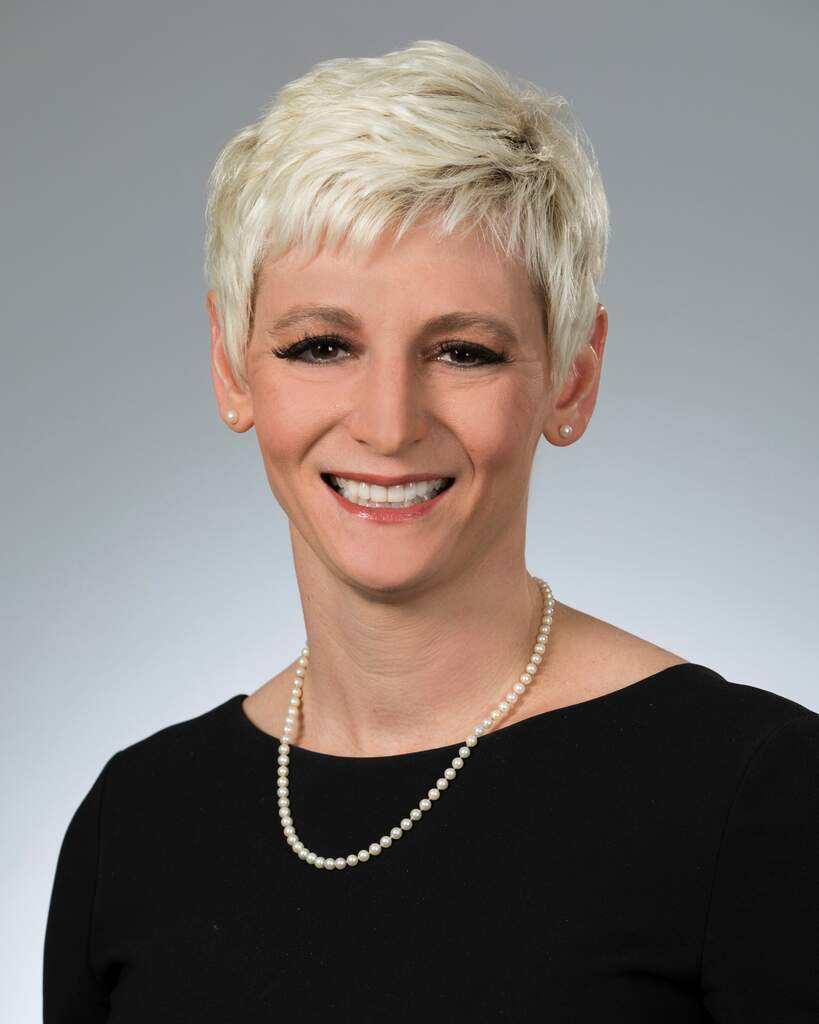 NRMP: Where do you see the program in 5 years?
Dr. Bray: We will have our first graduates in 2024, opening additional opportunities for growth in five years. The future looks busy! I really see our graduates taking what they've learned here medically and culturally and seeing it come together as they care for some of the first patients of their medical career. As they build treatment plans for members of their community, and see outcomes improve, that's where it's all worth it.
We also will have a rural track of OSU's pediatric residency program opening with the Cherokee Nation in the summer of 2022. This exciting expansion of training opportunities within the Cherokee Nation health care system furthers our impact on patient care in our communities.
I see our elementary, middle, and high school students in rural Oklahoma start to realize at a young age that they can be doctors in their communities. They'll start to see that they can really help the health of their own community members because they've seen kids from their hometown become the hometown doctor.
---
NRMP : What are you most proud of in the few years the campus has been operating?
Dr. Bray: COVID-19 has been difficult. We have had students who have been sick. We have faculty, staff, and students facing the same challenges we all are facing. There is fear associated with getting sick, there is concern for the safety of their families, challenges related to children and virtual school. We are very proud of our faculty, staff and students for their dedication to ensure that we created a respectful campus environment that prioritized the health and safety of each other and to ensure a safe learning environment. We also were very proud to work with CN Health Services in early 2020 to support their vaccination rollout. Between January 1 and April 30, 2020: OSUCOM CN Faculty volunteered 174 hours to supervise OMS1 students administering vaccines at the CN outpatient healthcare center in Tahlequah. OMS1 students at OSUCOM-CN – volunteered more than 685 hours and administered approximately 2,500 vaccines.
I am very proud of the academic learning culture we have developed. Taking the time to listen to our community, our partners at the Cherokee Nation, and our students – we have created a place where students have a sense of belonging. Our students are engaged in our mission, they feel connected to their "why" in medicine and they feel safe to grow, develop and be challenged that will position them to achieve their dreams for their careers and to impact their communities. It is easy to see success all around us:
Cherokee Language Course – students have had the opportunity to take an elective in Cherokee – This course served not only to an introduction to language but help students understand Cherokee and Native culture that will aid them in caring for their future patients.
Dr. Pete's Book Nook – an example of student leadership and engagement, the Book Nook is a community book-sharing initiative that serves patients visiting the Cherokee Nation Outpatient Health Center. The Book Nook is placed in proximity to the pediatric department and provides books for parents to read to their children or children to read themselves while they wait to see their healthcare providers. Patients can keep a book and take it home or share books they no longer are using. The story behind the Book Nook can be found here: https://news.okstate.edu/articles/health-sciences/2021/dr-pete-book-nook-osu-com-cherokee-nation.html

Press Contact